MARS LEADERSHIP EXPERIENCE
France , Denmark , Czech Republic , Greece , Germany , Belgium , China , Ireland , Italy , Netherlands , Poland , Saudi Arabia , South Africa , Spain , Switzerland , Ukraine , United Kingdom , United States

Deadline Deadline: September 2022
Programme Overview
Your future as a leader starts today. Our general Graduate Traineeship Programme: The Mars Leadership Experience (MLE), is the perfect grounding for a career in business leadership. You'll manage projects, lead teams, take on roles with local and international exposure and make decisions with real consequences. The work will come thick and fast, preparing you for the challenges tomorrow.

The MLE comprises three 12-month placements. As a guide, you'll typically follow a path through the three years with exposure to very different areas of our business. You will have placements across Demand  (Sales, Category Management, Marketing), Supply (Manufacturing, Supply Chain, Logistics), and Digital (Data & Analytics, Project Management, Functional Applications & Strategy).   
What will you do 
3 x 12-month placements
Opportunities to manage teams and projects
Join our global trainee community
Who are we looking for 
University students from all study backgrounds

2:1 degree 

Internationally mobile

Passion to become a future General Manager
What are the benefits
Starting salary £32.000 (UK only)
Joining bonus £2.000 (UK only)
Inspiring mentors and coaches 
Flexible working hours
Dogs in the office (depending on the office)
Where you can do it
Applications from Australia, Austria, Belgium, Czech Republic, China, Denmark, France, Germany, Greece, Ireland, Italy the Netherlands, Poland, Russia, Saudi Arabia, South-Africa, Spain, Switzerland, United Kingdom, United States of America and Ukraine. There are many locations all around the world where you can start your general leadership career at Mars.
apply here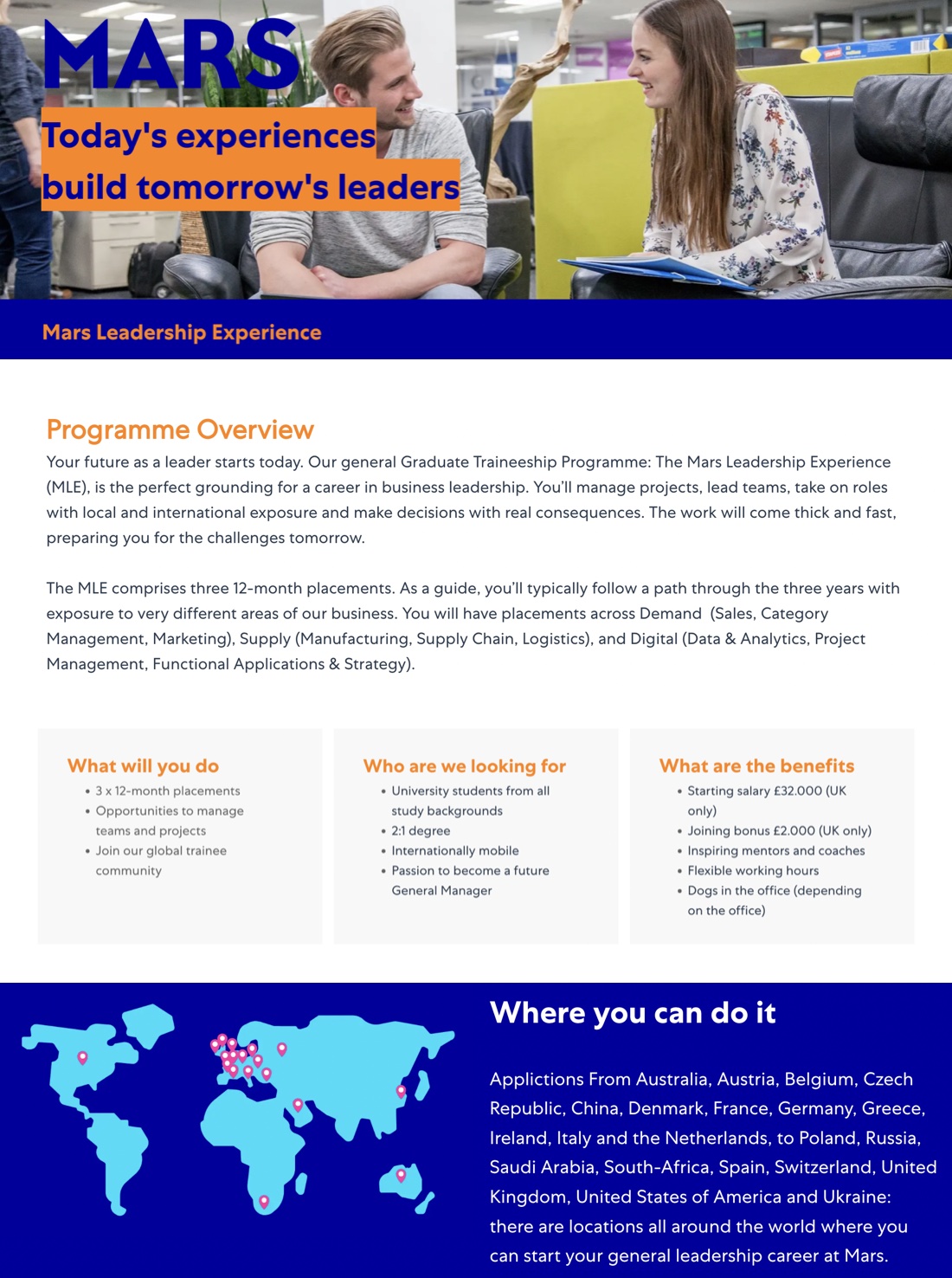 Trainee Program Video